Slide Folding Doors
Bringing the great outdoors into your home
Visofold Slide folding doors transform your home and the way you live your life; relax in stylish open plan living areas or enjoy a stunning panoramic view from your bedroom.
You will feel like you're living the outside inside by opening entire façades in your home and make the most out of a beautiful garden. Any aspiration is possible with a Visofold slide folding door. These beautifully designed, versatile doors are suitable wherever you want to transform your home; living room, bedroom, kitchen, conservatory. The choice is yours.
The modern aesthetics of a Visofold slide folding door will add a touch of finesse to any external aspect of your home. When closed, Visofold complements your home with a striking glass façade with attractive curved characteristics that are pleasing to the eye. Fold the sashes back to give a stunning opening that draws the exterior ambience into the comfort of your home.
Visofold slide folding doors come with all the assurances you would expect from a quality designed product. The aluminium profiles are designed to give strength and durability to ensure a structurally sound product that requires minimal maintenance and delivers reliable performance over a lifetime of use.
Visofold doors fold open effortlessly, gliding on stainless steel rollers allowing unrestricted thoroughfares and the maximum use of space and light. The signature smooth contours and curved clean lines create an attractive aesthetic that will complement any home, whatever your taste or style.

The thermally broken folding door system is designed to allow for maximum thoroughfare through an opening.
The system is built up using a frame in which moveable parts or elements are placed In such a way that it is possible to fold up the elements to the left or right. These elements or sashes are supported and hinged to a mullion. At the bottom the mullion is supported by a roller mechanism which slides along the cill profile while at the top, the mullion is guided by another roller mechanism. There are many possible combinations of elements and opening sashes.
Features
Polyamide Thermal Break for superior insulation
Security locking on main doors and intermediate stiles
Maximum sash weight up to 85 kgs
High performance weathering
Internally beaded
Virtually maintenance free
Options
Opening inside or outside of building
Accommodates glazing from 6mm to 38mm units and panels
Choice between standard cill or low cill profile allowing levelling of frame with floor
Features
Slide Folding Doors
Slimline folding doors
Installation Examples
Residential Projects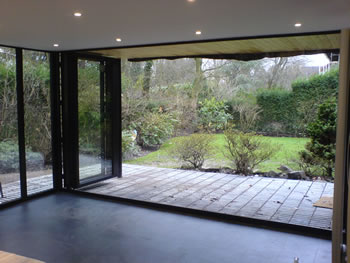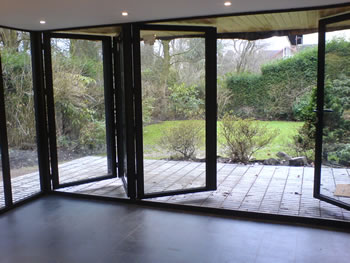 T: 0151 343 0354 | F: 0151 334 8080 | E: info@windowdoorsolutions.com